March 27, 2012
Several weeks ago I asked DH if they had any burlap bags at work:
ME: "Hey hun? Y'all have any burlap bags?"
DH: "I don't know, I guess. WHY?" (looking at me with that what is she up to now look)
ME: "Well, I was going to buy burlap but it's to $@%# expensive, plus Lowes keeps selling out of it. If y'all have some, why throw it away when I can use it."
DH: still giving me that look.."I'll check." and then quickly found something to do before I started in with the bombardment of questions.
Now despite the fact that I wanted to irritate him about them.........I resisted.
Then a few days later he calls me from work:
DH:"Hey! How many bags do you want?"
ME: "Why? Do y'all have some? Just a couple, Why?"
DH: "Yes, we have some. Only a couple? OK........Love you, bye." Now, he gave me long enough to say love you, too; then he hung up before I could start in with the questions.
Now since he rode his bike into work, I knew he couldn't bring them home. So, I waited...............waited..................waited.......................and waited some more (four days worth of waiting
impatiently
patiently).
DH: "Hey! I got your bags in the garage."
ME: all excited "Really? How many did you get? Are they big or small? Are.........."
DH: " will you just go look."
We walk out and I see these:
There were 10! Just a few more than I wanted but I can figure out something to do with them. I'm about to jump out of my skin with excitement. THEN.......
DH : "Those aren't the only ones."
ME: "What do you mean, those aren't the only ones?"
DH: "The black box has more bags."
Are you ready??.....................look at HOW MANY he brought home!!
There are at least 50 in the box. They are all coffee bean bags.Aren't they cool??
Until I figure out what I'm going to do with the rest; I will show you what I have used two for already.
DH brought two of these end tables home. I decided to paint the legs and edges white.
I took two of the burlap bags, ran them through the washer and dryer. OMG, they left so much lint in the dryer I had to use the vacuum to get it out!! Anyways, I grabbed my spray adhesive, some upholstery tacks and got to work. DH gave me a hand laying the burlap on the top. We trimmed of the excess, smoothed it out and let it dry. Once dry, I touched up any loose edges with hot glue, plus it helps with any fraying. Then I took a ruler or tape measure; measure and place a mark every inch around the edge of the table and tap in upholstery tacks. Now I sprayed two coats of satin poly on the top of the table, to protest the burlap from any spills, etc.
Unfortunately, we already had a spill and from this I will tell you that four coats would probably work better.
Here is what they look like now:
This one had a rip and stain on one side, so the graphic is off.
These are going in the family room on either side of the sofa, for now that is all you get to see of them until we finish. Sorry! The great thing is the cost ........free!! Yippee!!
What to do with the rest of those bags?????
Check out something new I am starting. Rainy Day Reading,
HERE
Hope everyone has a wonderful week.
March 19, 2012
So back in February I mentioned that I was redoing my grandsons room and I am finally finished. :o)
When we puchased this home our grandson wasn't leaving <---(really? sheesh I can't spell today) LIVING with us at the time. But since he was going to be spending his summers with us, I let him pick out the decor. He saw the Noah's ark print at Kirkland's; that print started the whole animal theme to the room. Which was a good choice since this was also the guest room when he wasn't visiting. Unfortunately, this is the only picture I have of the room, all the others are on my pc that crashed.
Here is the room after they moved in: If you look in the bottom image you may see something familiar.....yes the entertainment cabinet that is now in the
man cave
used to be in his room. The little round table next to the futon will show up with a brand new look in a later post.
Now onto the present.
We pulled up all the carpeting and laid the Brazilian Cherry flooring ($175.00). One wall was painted "Mountain Slate Blue" and the rest were left "Golden Crust".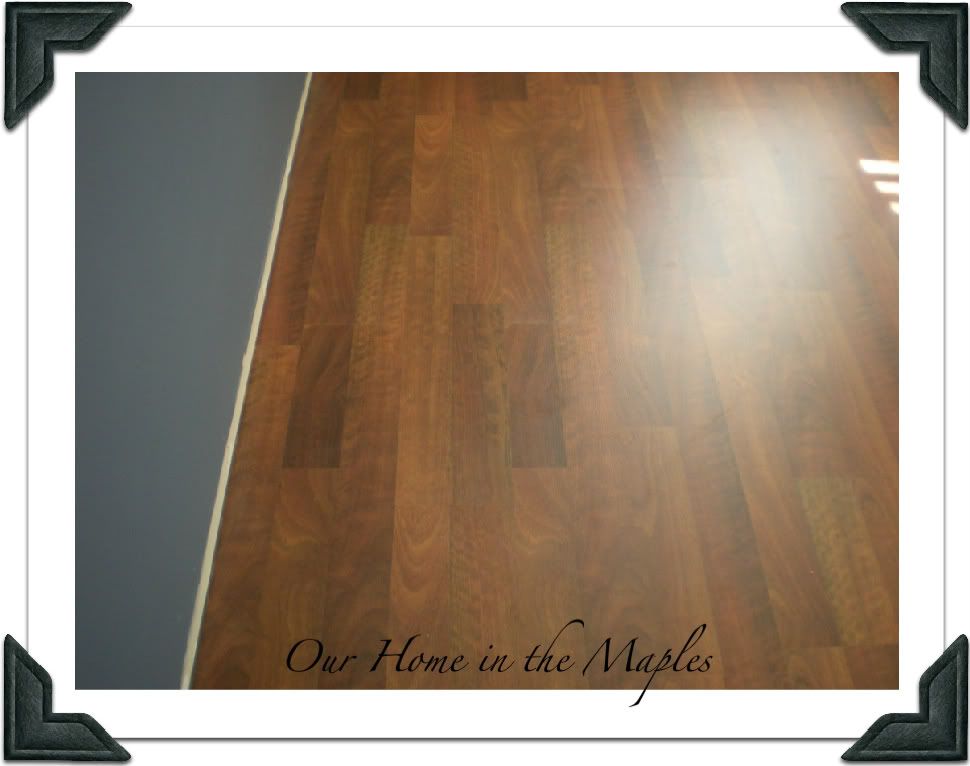 Here is the room now: This room get plenty of sunshine during the day. It is perfect for a child.
The chair has changed since I took the photo. The shelf was in our room, the train was a Christmas present from a friend about 4 years ago. DH made the headboard back when he went from a crib to a big boy bed. The train night light was a giving to Devyn by my father and the rattle snake statue was a present from his uncle, this is the only piece of animal decor left in his room.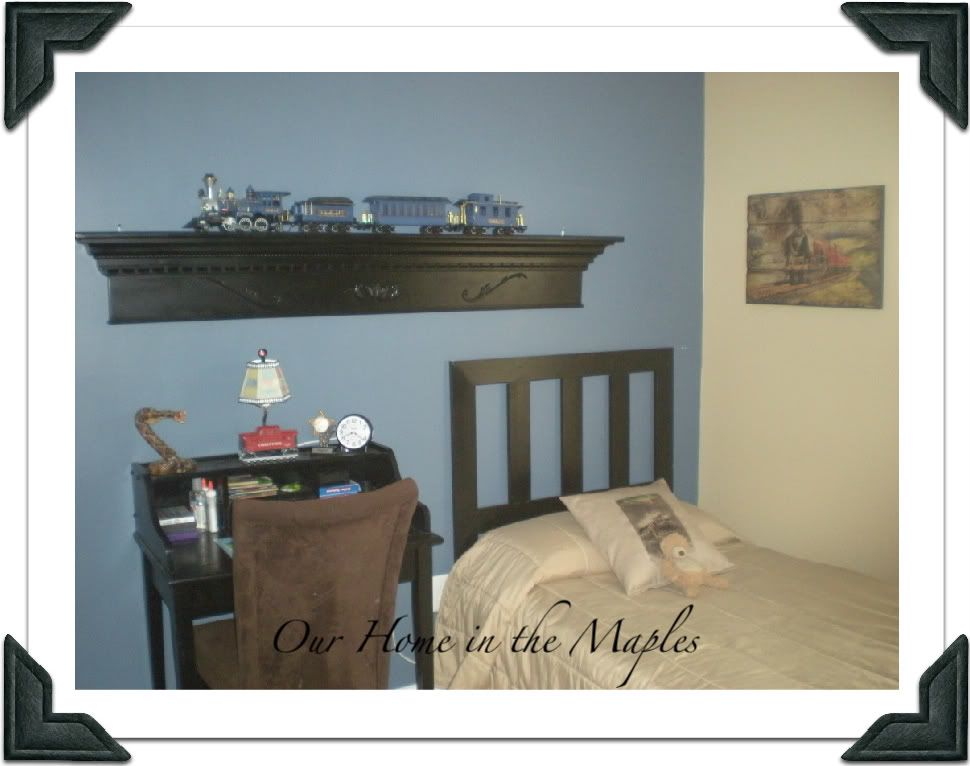 The pillow on the bed was made from a tablecloth and a graphic from
The Graphics Fairy
. The teddy bear 'Teddy' has been with my grandson since he was 6 months and boy does he look like it.........he has been washed so many times he is going bald! Personally, I think every little boy needs a 'Teddy'
The valance was made from the same tablecloth (can be seen in the first photo above). The subway art poster and the train photo was found at Hobby Lobby. The train prints are actually post cards that my father gave to my grandson. At the foot of his bed are Bugsy and Bogart. Since there cage is so big and has wheels we keep them on the floor. There is a towel placed under the cage so the food they kick out of the cage stays there and not all over the room. The
refurbished dresser/hutch, which you can read about here
holds several train books/encyclopedias, an antique lantern and the railroad lantern my grandfather used. His Wii/games, Harry Potter books (he is a big fan and so am I), a little cd player (he loves music) and other personal items. The four small drawer hold controllers for the gaming system, movies, etc. Each basket has a label (lego's, cars, trains, etc) so he can put his toys back in there proper place. Larger toys are in storage container hidden under the bed. Wondering where his pj's, socks, etc are? In the closet. On the other side is a basket holding several stuffed animals and toys that my grandson sleeps with every night. And since baseball practice started Saturday, his glove, bat,etc is propped up in the corner next to the basket.
Behind the door is a "Transformer" name poster and a mirror turned into a chalkboard/chore list. I painted the frame the same color blue as the wall.
Here is the room again:
Hope you enjoyed.
Joining in the Fun @
Sumo's Sweet Stuff
Between Naps on the Porch
Debbiedoos
You're Talking to Much
DIY Home Sweet Home
Homework
My Uncommon Slice of Suburbia
Coastal Charm
Cedar Hill Ranch
Ivy and Elephants
Savvy Southern Style
Bunny Jeans Decor and More
The Shady Porch
These Peas Taste Funny
No Minimalist Here
A Creative Princess
A Delightsome Life
The Charm of Home
2805
At the Picket Fence
Redoux
French Country Cottage
Five Days.....5 Ways
Saturday Nite Special
March 6, 2012
I was planning on revealing the man cave last week; however our grandson
Jacs
and his doctor had other plans! :o)
Come on with me..........
Looking up the stairs from the foyer. Although the stairs were the hardest part of the redo, they turned out rather nice.
The right hand side of the stairway, I have created a gallery wall for some of DH military awards, plaques, & berets. The crossbow (center) is handmade and was a gift to my father. The small needle point (bottom left) says "Freedom is the glory of our nation."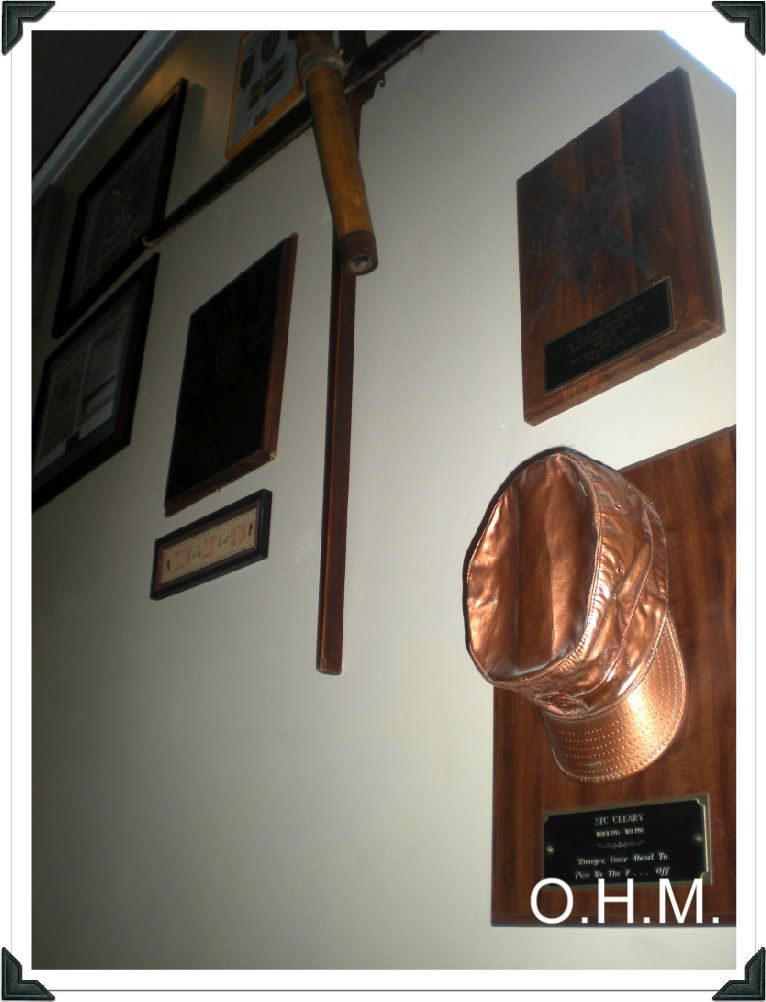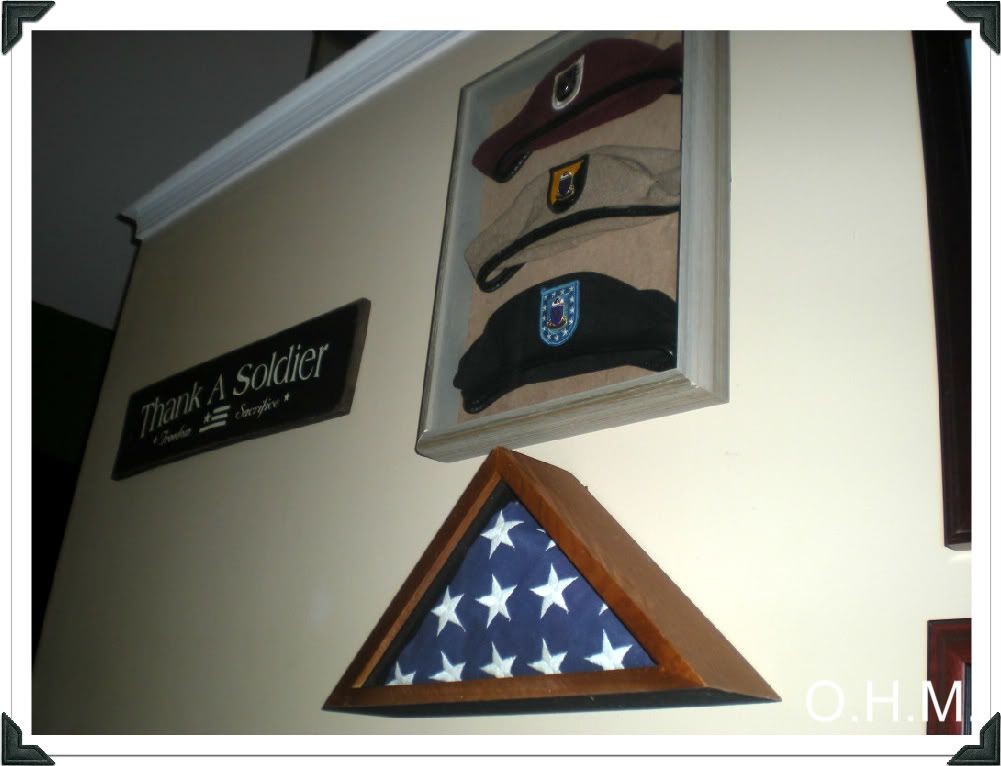 In the shadow box are his berets: The black beret was the original beret that Rangers wore, before a certain
idiot
person decided to change it. The tan beret is what Rangers wore after the change and of course the burgundy beret which is worn by the 82nd. The flag was presented to him at his retirement.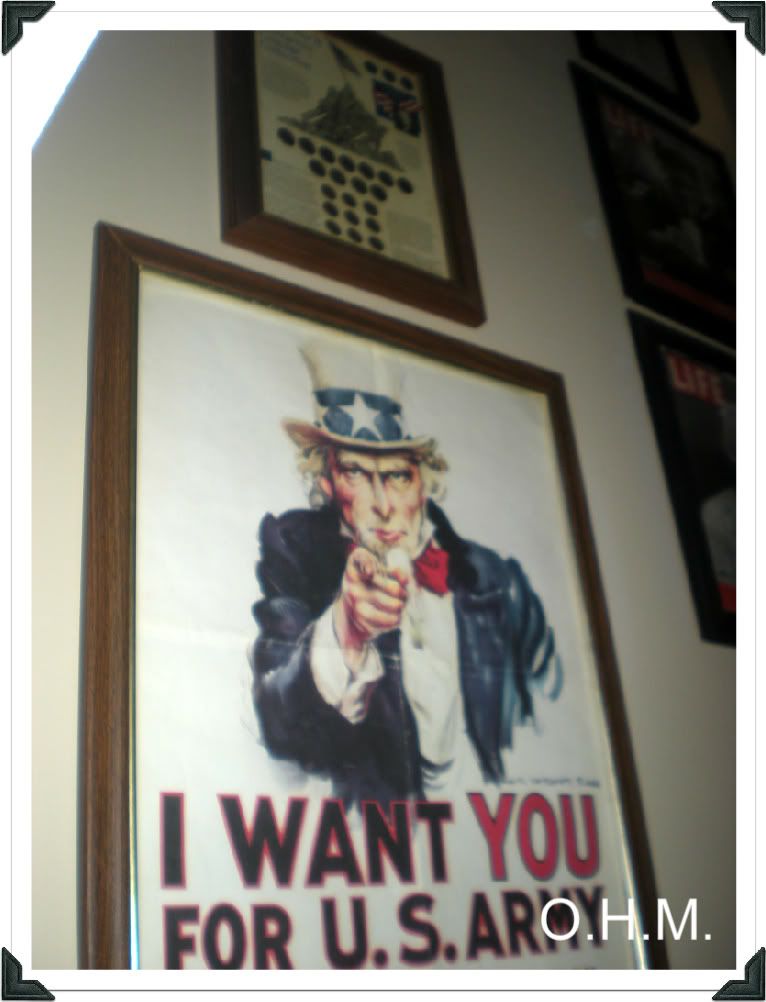 My WWII recruitment poster and a WWII mint set.
My WWII collector plates, Viet Nam wall collectors plate. DH Viet Nam print and another picture of my father.


My "Military Wife" poem, another print and two photos of DH.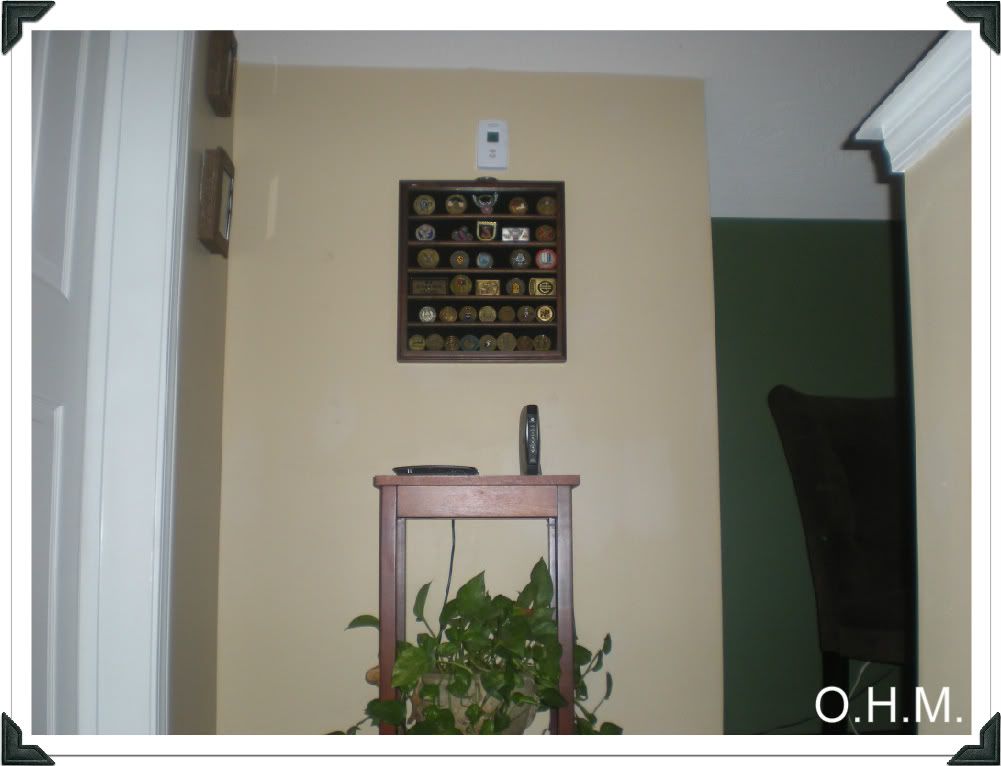 At the top of the stairs is a small table (this is for our router and wireless router), DH military coin collection, two bibles (in shadow boxes on the left) and the door to the fourth bedroom and third bath.
As you turn into the man cave you have a place to sit and play chess, backgammon, checkers and dominoes; look through DH Army scrape book or admire my father's SF plaques.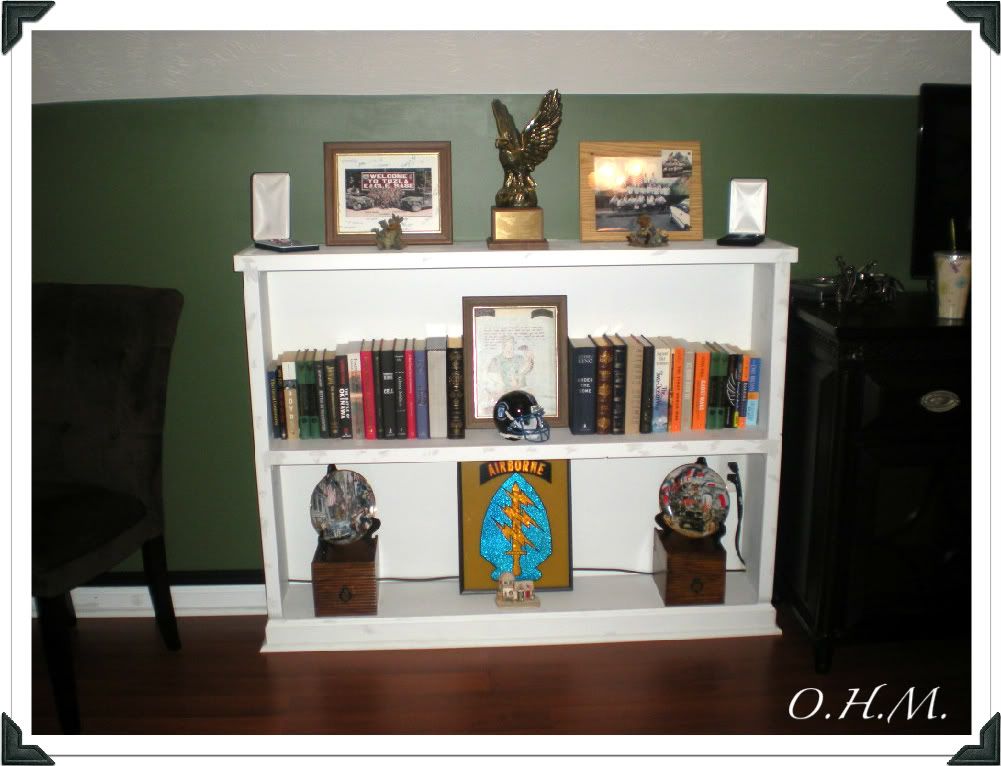 This is the first of two built in book shelves. The top shelf has more of DH awards, medals and pictures of some of the men he had served with (pic right is from Hawaii; pic left is from Bosnia). The second shelf has all my military history books, a drawing and a mini Army football helmet. The bottom shelf (please excuse the cords), (center) the Airborne cracked glass print was given to me by my father, below it is a little collectors WWII train station. On either side are two more of my WWII collectors plates, which are displayed on small drawers from a cd storage chest.
A close up.
Next is the entertainment console decorated with a mini Harley(that semi hides the DVD player), picture of DH and grandson and my antique hair clippers.
This is the built-in on the right. DH collects bears, especially Boyd's Bears. The 82nd plate (top shelf) is mine, they special ordered it from Poland, yes it is Polish Pottery. There is a paper weight and a hand carved piece of granite. Second shelf: again more of my books, a family photo taken from green ramp when DH came back from Iraq, Bottom shelf: two more of my books and the CD cabinet with two drawers removed and a few more of DH's bears.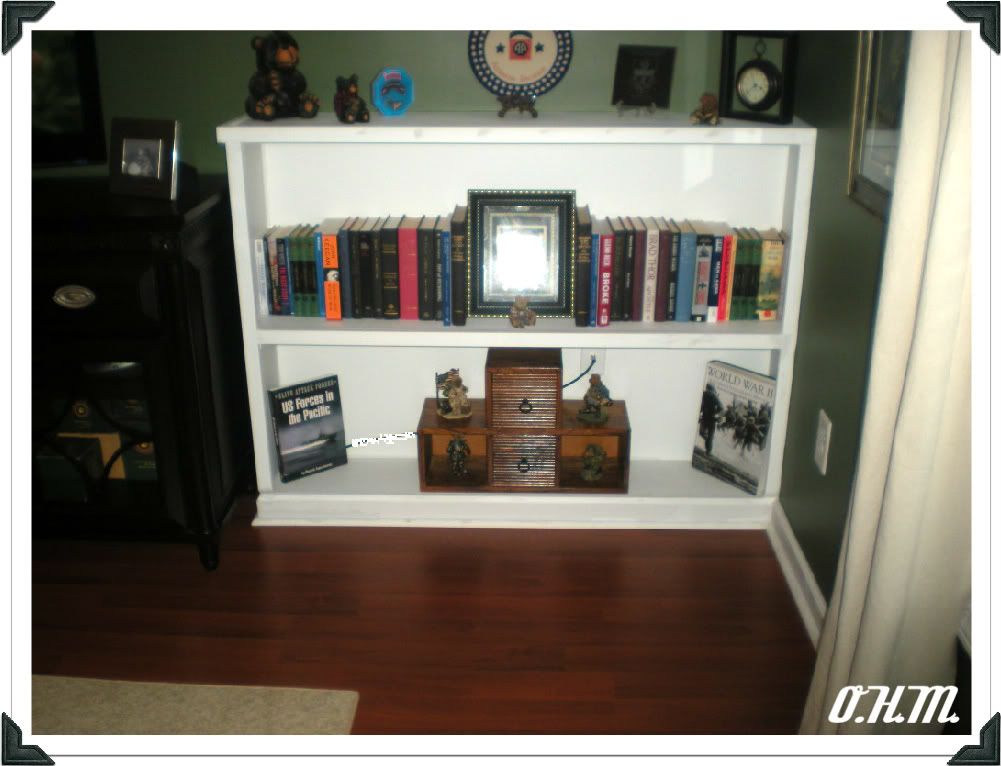 Another pic of the built in, a glimpse of the window wall and my drop cloth curtains.
Left side of the window is another award and the "not alone" print from
Kirklands that I gave DH for Christmas.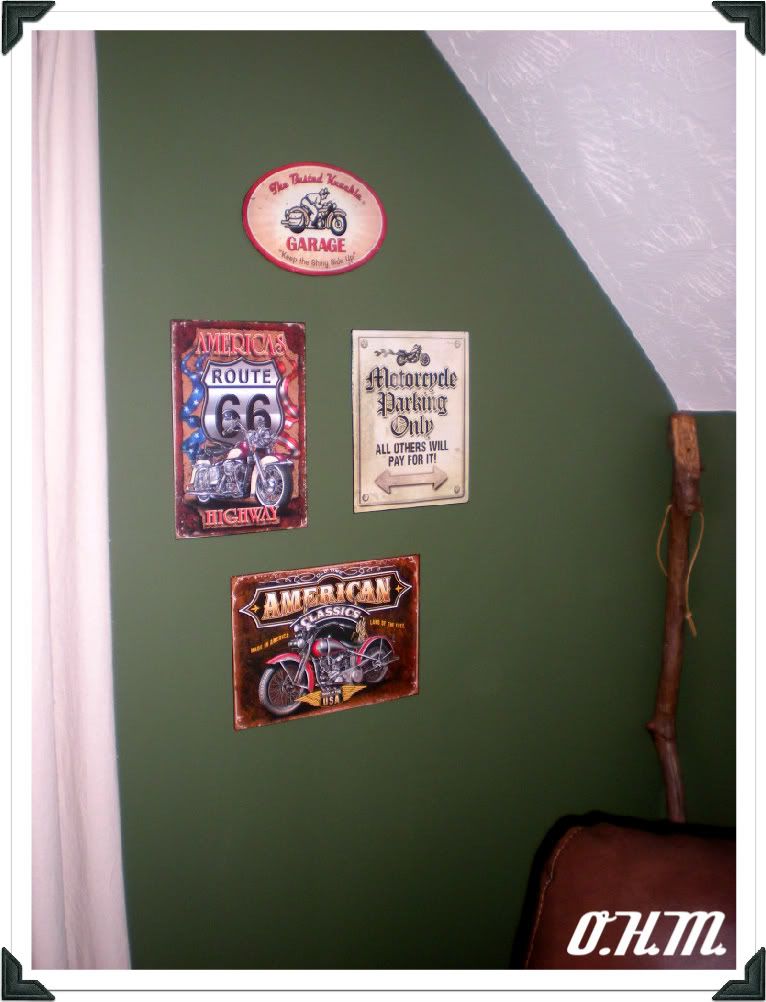 On the right side of window: metal motorcycle signs and a hand carved
walking stick.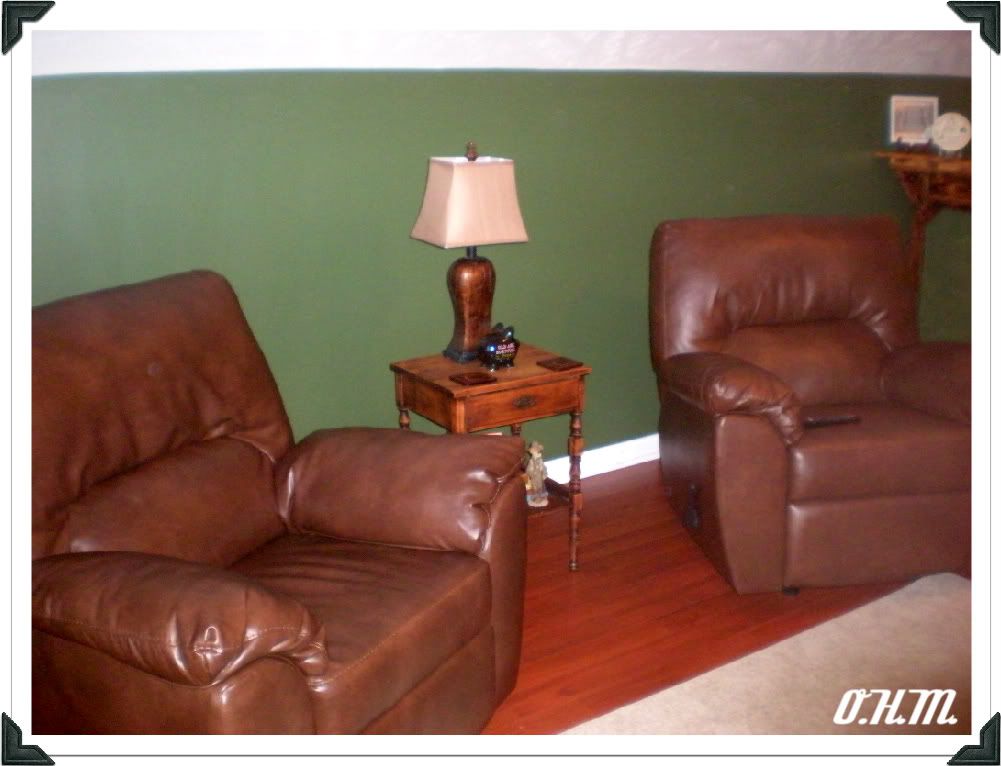 Next we have the recliners, my grandfathers smoking table, DH's "old age fund" piggy bank.
Bottom: you can barely see another bear and not shown are a few magazines, my fathers army/navy hymnal.
And finally the bar! I painted the inserts the color of the walls and recovered the bar stools in brown suede (the bar stools will probably be replaced soon). On the left are two irish blessings and two canisters. I wrapped jute twine around the top and hung a little tag, one has a 'P' the other a 'C' for peanuts and cookies/candy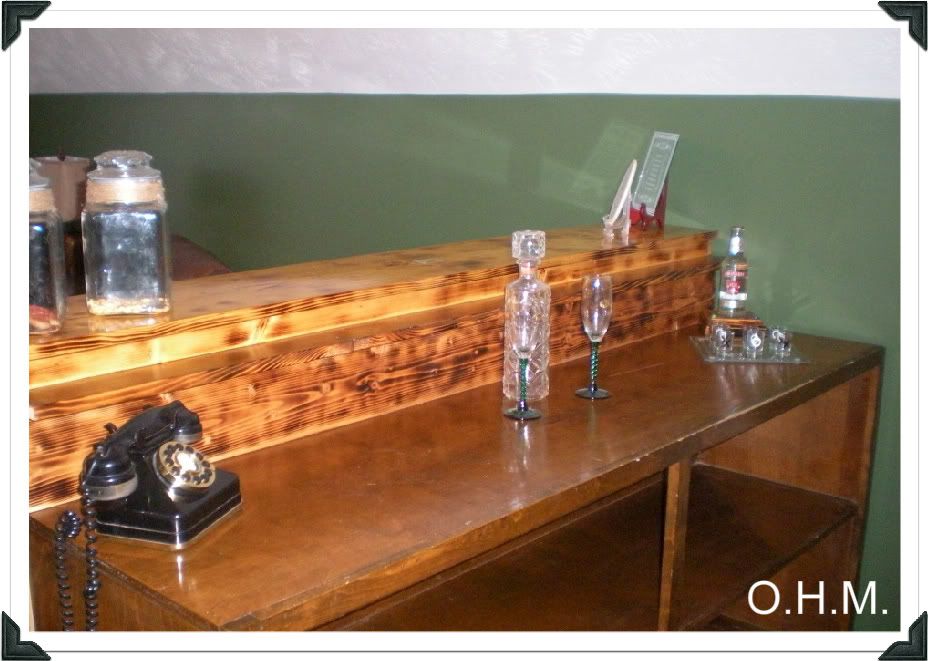 The back of the bar (yes the shelves are empty) has a reproduction 1940's phone, wine decanter, our claddagh champagne glasses, a tic tac toe drinking game and a bottle night light!
Behind the bar is the liquor cabinet, mini frige and Moe! On the fridge is a glass candle holder wrapped 3/4 of the way with jute twine, it holds straws. (please ignore the Hank Williams JR doll). In front of Moe's home is a little plaque that reads "Grandparents fill the world with love".
Full view from landing. Sorry it is dark couldn't get the lighting right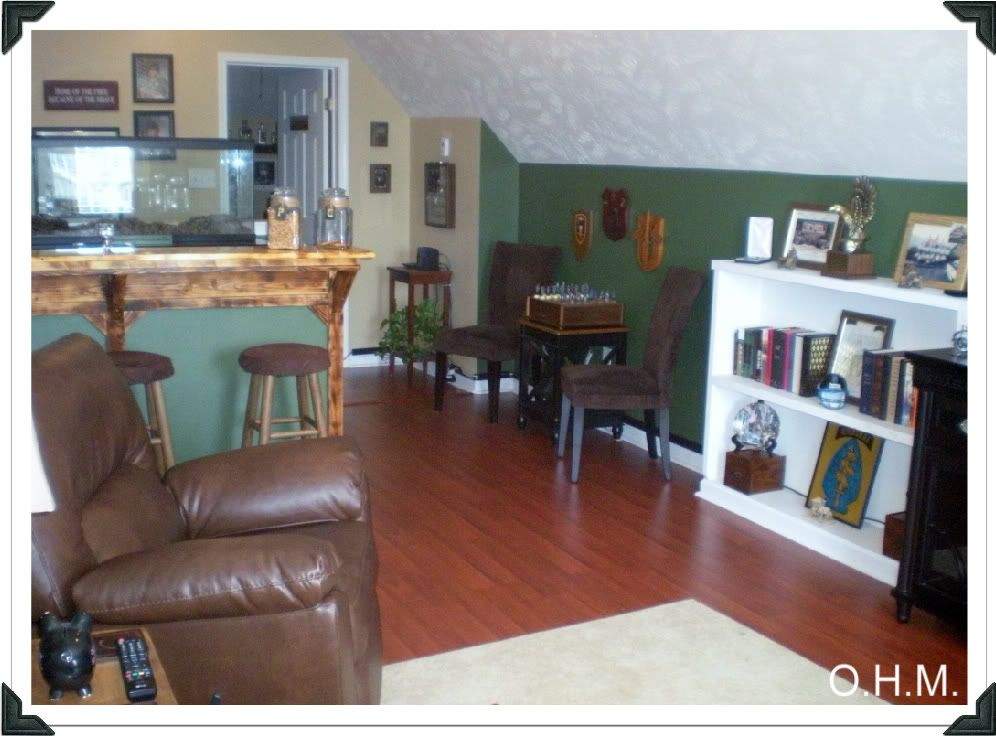 Total cost: including flooring was about $1200. Majority of that went towards the recliners which cost $650 for both.
Joining in the fun @
between naps on the porch
debbiedoos
you're talking too much
sumos sweet stuff
diy home sweet home
coastal charm
type a decorating
carolyns homework
cedar hill ranch
bunny jeans decorating and more
savvy southern style
ivy and elephants
These Peas Taste Funny
No Minimalist Here
Katherines Corner
The Charm of Home
2805
At the Picket Fence
Redoux
French Country Cottage
Saturday Nite Special
What's Your Favorite Room?